FLIR thermal security cameras prevent outdoor fires
Every year stories about wildfires make newspaper headlines. In scorching weather countryside is left tinder-dry by a prolonged heat wave, resulting in major wildfires. Because of human negligence or malicious intent, forest wildfires result in a major cost for society, the loss of valuable forest areas, and the risk of human casualties.
Application story
In order to offer a solution for this ever returning problem, FLIR systems offers a fire detection camera system based on thermal imaging technology that is able to detect fires in an early stage and over a long range.
Thermal imaging technology for outdoor fire protection
Thermal imaging cameras for fire detection are not new. They have been used for example for indoor detection in waste plants, which often contain thousands of tons of solid waste. This waste is potentially flammable when stored, due to self-combustion, spontaneous chemical reactions between the disposals or methane gas-building. Cameras like the FLIR A130 F and FC-R Series for example detect fires based on temperature changes and actually measure the temperature. When a certain, unwanted temperature level is reached, the registered camera images can trigger an alarm.

And although a forest fire application is the origin of this system, it is also suitable for use on any outdoor fire detection environment, or indoor long range areas. It can be applied for a wide variety of installations, like industrial premises, solar fields, electrical stations, flammable outdoor deposits, nuclear plants, airports, ports and many others.
FLIR thermal cameras highly stable in tough environment
Both FLIR A310F and the FC-R-Series Security cameras have been designed in such a way that the survivability of the camera in electrically adverse environments is guaranteed. "Power sources in forest areas are generally not the most stable ones, due to the remoteness and vastness of those areas," "Voltage dips or interruptions can cause a normal camera to break. Also, lightning strikes can be fatal for a security camera system."
Moreover, A310F and FC-R-Series Security cameras have been engineered with propriety FLIR circuitry to provide a high degree of protection against a variety of problematic power conditions that have been shown to cause problems for typical cameras. The benefits of this added protection include: uninterrupted operation in a wide range of conditions, a high degree of protection against electrical storms and immunity to electrical noise in industrial environments.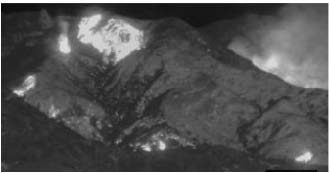 Thermal imaging cam see the unseen in the dark
FLIR FC R Series and A-Series Fixed and Pan Tilt Series cameras can be installed almost anywhere to monitor critical equipment and other valuable assets. They will safeguard plants and measure temperature differences to assess the criticality of the situation. This allows users to see problems before they become costly failures, preventing downtime and enhancing worker safety. They can also be used for Security & Surveillance.
Although most of the thermal imaging cameras that are being used in a security & surveillance environment do not need to measure temperatures, there are some cases in which the ability to measure temperature offers advantages. Thermal imaging cameras become definitely necessary when Security & Surveillance needs to be combined with temperature monitoring of critical installations.
A typical example is substation monitoring. With a thermal imaging camera that is able to measure temperatures, users can monitor transformers and other substation equipment during daytime. And during the night, the same thermal imaging camera can be used for perimeter security.
Why not using the same cameras to do both?
Security professionals around the world have been using FLIR thermal cameras for perimeter and critical asset security for years. Facility operations and safety personnel have been using FLIR cameras to gather non-contact temperature measurements and condition monitoring data for decades.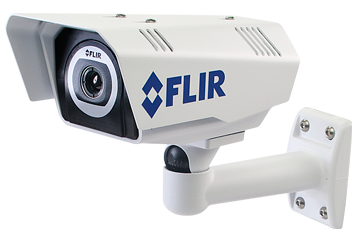 By merging FLIR industry-leading thermal imaging cameras with thermal video analytics and non-contact temperature measurement, the FC R series, and the A310 Fixed and Pan/Tilt camera systems create a multi-role solution for perimeter intrusion detection and facility safety monitoring. With FLIR Analytics users can use security cameras to measure and display actual object temperatures and generate alarms when thresholds are exceeded, even at remotely monitored facilities.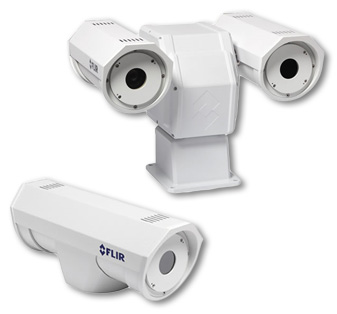 Benefits of FC- R Series A310F and PT cameras
* Perimeter security with thermal imaging and analytics
* Equipment monitoring to anticipate unexpected failures
* Wide-area surveillance for fire detection and monitoring of critical materials
* Alarms based on actual object temperatures exceeding pre-set thresholds
Benefits of Thermal Analytics Applications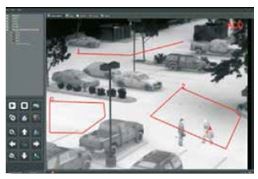 Powerful and versatile, FC- R Series and A310 cameras with FLIR Thermal Analytics protect users from loss on multiple fronts. Pole-mounted fixed cameras using FLIR Analytics provide automated alarming of intruders, while cueing pan/tilt cameras to interrogate alarms for more detailed assessment. When no intrusion alarms are present, the cameras can examine substation components for heat signatures that signify efficiency loss or impending failure and generate temperature alarms. Proactively fixing these faults saves utility companies from losing millions of dollars in revenue due to unplanned service interruptions every year. These same cameras provide intrusion alarm assessment with built-in analytics and respond to alarms generated by other third-party devices. Strategically positioned cameras send alarms when a concentrated area shows a temperature increase.
These FLIR Thermal Analytics solutions protect facilities from intrusion, fire hazards, premature equipment failure, and other factors that can lead to expensive downtime and lost revenue.
As a proven application for:
-Monitoring hazardous chemical storage facilities, bulk coal piles
-Forest Fire detection
-Substation Monitoring
-Airport Fire detection
-High value asset monitoring
-Major high density people venues/locations